Posted 24 Apr 2020
Shrewsbury's historic threshold mosaics
Hints of Shrewsbury's history can be spotted throughout the town. Oftentimes you need to be looking up, but for these gems you'll need to be staring at your feet.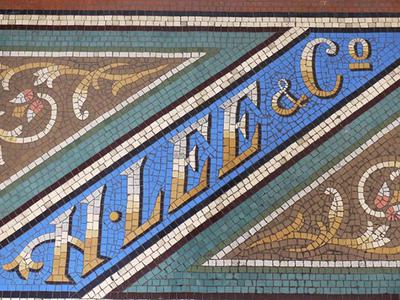 Decorating the entrances to many of Shrewsbury's businesses are threshold mosaics. Throwbacks to Victorian and 20th century retailers, these mosaics often acted as branded signage for the businesses or were sometimes purely decorative. We've collated some of Shrewsbury's more interesting examples each accompanied by a brief history of the property.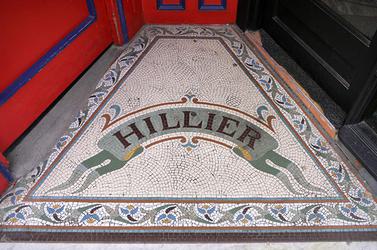 H Hillier
27-28 Mardol
Hillier has been a well-known name on Shrewsbury's Mardol since the mid 1800s.
H Hillier Cook and Confectionary, 29 Mardol, was photographed by Victorian businessman Joseph Della Porter, in his 1888 series of Shrewsbury's businesses.
Later 28 Mardol was occupied by F Hillier, a grocer and confectionary. Photographed in the 1960s, the Hillier threshold mosaic is just visible in the doorway.
The mosaic can still be found in the doorway between Watson and Thornton and The Curry House.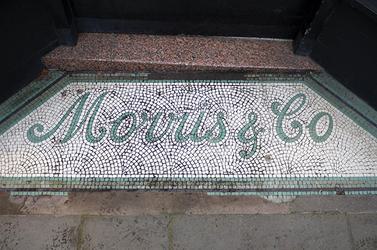 Morris & Co
60 Wyle Cop, now Christmas Perks
One of Shrewsbury's oldest businesses, Morris and Co has operated from premises throughout the town and Wyle Cop is no exception.
In 1910 Fanny Morris, daughter of James Kent Morris, was asked to look after Deakin & Company, a recent acquisition by the Morris brothers located at 60 Wyle Cop. An experienced baker and confectioner with a penchant for cake decorating, Fanny, along with her sister Minnie, had previously set up a confectionary at 75a Wyle Cop under the name of Morris and Co.
Over the coming years the property was extended and improved, and two more confectionary shops were later added to Morris & Co's portfolio.
The Morris & Co mosaic can still be seen outside 60 Wyle Cop, now Christmas Perks, Shrewsbury's year-round Christmas shop.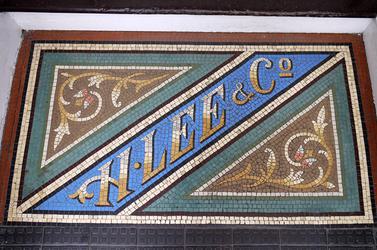 H Lee & Co
13 The Square, now Carol Grant
For over a century H Lee and Company, a family grocers and wine merchants, occupied Shrewsbury's town square. Moving from number 17 to number 13 in the late 1930s to allow the expansion of Shirehall, now Shrewsbury Museum and Art Gallery.
You can still find their threshold mosaic, a particularly colourful example, outside Carol Grant, 13 The Square.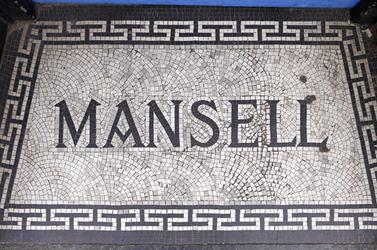 Mansells
17 Wyle Cop
Mansells was a popular Shrewsbury newsagent for well over a decade. Purveyors of toys, stationery and art supplies, their threshold mosaic is still visible at 17 Wyle Cop.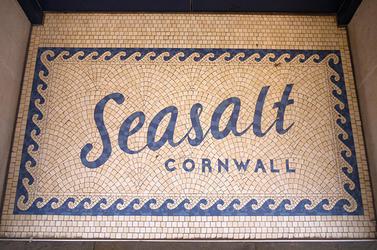 Those with a keen eye will spot Shrewsbury's newer mosaics. Joining Shrewsbury's retail scene in 2015, national favourite Seasalt also opted to update its threshold mosaic. Choosing instead to stick with the decoration's traditional use as signage.
There are many more threshold mosaics to be spotted on your journey around Shrewsbury, some decorated with the names of historic businesses, others with decorative designs – but all waiting to be discovered. Some more examples of branding can be found outside Interiors at St Mary's Street, The Antique Barometer & Clock Shop, Travail Employment Group and 29 Castle Street.